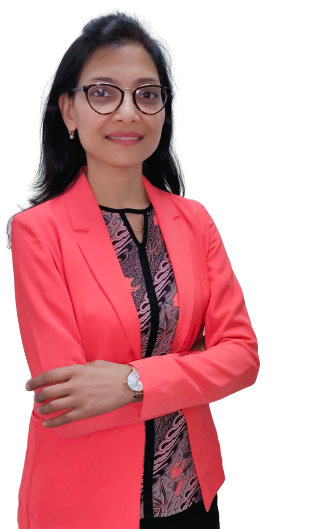 Dr. Alka (IVF Doctor in Udaipur)
Parenthood is not just a mere dream, but it is a hopeful longing, mandatory happiness, and an evergreen reality of life. With more couples facing difficulties in getting pregnant due to lifestyle, stress, age, and many other factors too, intervention through fertility treatments has become an important solution. Over the last 15 years, Dr. Alka offers couples competent and compassionate advanced fertility treatment with an inbuilt faith and trust.
Dr. Alka strives to provide each of her patients a personalized treatment plan and family-like care, maintaining utmost confidentiality. She believes in recognizing the couple's need for an approach that is both pragmatic and plausible without missing her focus on the credibility and affordability of the treatment.
With a vast experience of 15+ years in the field of infertility, she is a pioneer in the field of Assisted Reproductive Technology in Udaipur, Rajasthan. She has an overall experience of 22+ years in understanding her patients, their physical and gynecological problems, and providing them the best treatment.
From the day Dr. Alka stepped into the field of Medicine, she has always been passionate about fulfilling the parenthood dream of infertile couples and turning it into reality.
She has Augmented IVF Treatment In Udaipur and owns the credit of bringing little lives to the childless couples with the most difficult biological conditions. She believes that fertility treatment should reach each and every couple who needs it - by maximizing the success rate and minimizing the IVF cost.
Unlike everyone else, she believes in completing incomplete families, regardless of the severity of the situation, because she thinks nothing is impossible even in the field of ART.
What motivates her?
It is the gratifying smile of her patients that motivates her to leave no stone unturned to build happy and healthy families.
She has headed the flagship center (Udaipur) of a prominent IVF Group(Indira IVF)for around 7 years and thereafter, she was promoted as Head Research, Training and Clinical Audit looking after it's all centers pan India.
Through her constant determination and willingness towards fulfilling the dreams of infertile couples, she has contributed to the improved success rate of IVF through clinical innovations and refinements in techniques.
She has excelled in Advanced Hysteroscopic Surgery over the years creating a favorable intrauterine environment for thousands of women for successful implantation of embryos.
She has always focused on the most challenging category of patients and has strengthened them consistently. She would always empathize with and motivate her patients who have lost hope of parenthood due to multiple IVF failures. She has the clinical aqumen to decide which category of patients will be benefited most by including novel technologies such as PRP and Stem cells in the treatment plan.
She has led the Training Team of the Udaipur based IVF Group and is responsible for turning more than 100 basic gynecologists into capable infertility experts in India as well as abroad, thereby increasing the scope of fertility treatment all over India and abroad.
She also had pride working in ARMY for a consecutive period of five years from Jan 2000 to Jan 2005 when she was embellished with the prestigious rank of Major.
Dr. Alka is now at Alka IVF Shree Kanak Hospital, Udaipur
Dr. Alka has now started consulting patients at Alka IVF Shree Kanak Hospital, Udaipur. She believes advanced technology, quality treatment, authentic protocols, and patient trust should be the backbone of any ART treatment. Dr. Alka's mission, in accord with her ambition and determination, is to spread awareness about infertility, fertility preservation, and various scientific treatment options, which would lead to patient-driven quality health care services to every nook and cranny of not only Udaipur or Rajasthan but to the whole country
Being a parent is no longer a dream. Backed by her 15-Year-old legacy of clinical excellence and unmatched expertise, she is working extensively to provide the best treatment options with 100% transparency and commitment at Alka IVF Shree Kanak Hospital. With state-of-the-art technology and clinical protocols that are closely monitored, Dr. Alka is keen to increase your chances of getting pregnant and build you a beautiful and blessed family.
It's time to bid 'Adieu' to Infertility and say 'Hello' to Parenthood with Alka IVF Shree Kanak Hospital. Don't wait to complete your incomplete family, Consult now!